Aubrieta for a Wildlife Garden
Gardening for Spring Colour
Aubrieta is an easy to grow wonderful Spring perennial it's many little flowers can form dense cushions of colour that can brighten up any garden. Colours range from white through pale pink to deep purple and even after flowering the evergreen leaves form an attractive feature for under planting or ground cover.
Like many early Spring perennials Aubrieta is a great plant for attracting early pollinating insects such as Bees and Butterflies and would not look out of place in any wildlife, cottage garden.
Planting and Growing Aubrieta
Ideal for rock-gardens, walls, and border edgings, Aubrieta is easy to grow and thrives in a sunny position in well drained soils. When planting young plants, it is always best to add a little organic compost to the planting hole. Keep well watered, just until they become established and are growing strongly.
After flowering Aubrieta can be cut back to keep a nice tidy shape, although in a position where it grows over a wall or bank it often only needs the old flower heads removing with a pair of scissors to keep a neat cascading shape. During the winter months Aubrieta remains Evergreen, fully hardy it needs no special care
Planting Schemes
Aubrieta can be mixed with other Varieties and spring flowering bulbs such as Daffodils and Tulips, to create colourful and interesting planting schemes in the garden, either in a border in pots or a rock-garden. When in pots once the bulbs or have finished flowering Aubrieta can be moved to the garden.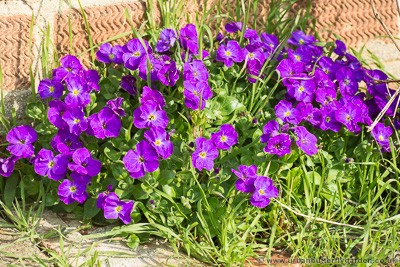 Growing Aubrieta from Seed
Aubrieta is also an easy plant to grow from seed. Sowing can be done late winter to early summer into trays just covering seeds with compost. The compost should be moist but not wet and sealed in a polythene bag until after germination which takes around 2 to 3 weeks kept at 18-20C. Transplant seedlings into 8cm pots when large enough stand outdoors and keep well watered. Plant out permanently in Autumn.
Aubrieta Information
Name/s: Aubrieta or more commonly Aubretia
Family Group: Brassicaceae, (Cabbage family).
Type: Evergreen, Fully Hardy.
Colours: Purples, Deep purple, Pinks
Similar appearance to:
Flowering: March – May
Position: Sunny in any well drained soil
Height: around 15–20cm
Soil Type: Any well-drained
Ideal For: Cottage gardens, wildlife gardens or low maintenance garden, patio planters, rockery, ground cover.
Care: Can be cut back by half to neaten growth
Sow seeds: March to June.
I also use it for: Ground cover for my Clematis
Visit and See the range of Aubrieta plants and seeds
here at Thompson & Morgan
© Urban Butterfly Garden 2010-2022