Kidney Vetch (Anthyllis vulneraria)
about
Kidney Vetch is a widespread Perennial most commonly found growing locally on calcareous grassland, dry banks, sand dunes and coastal cliffs.
The bright yellow flowers are kidney shaped woolly and quite distinctive and borne in pairs on leafy stems. They are a rich source of nectar for many insects from May to September. The leaves are pairs of leaflets with a silky-hairy underside
Kidney vetch (Anthyllis vulneraria) is the sole food plant for the Larvae of Britain's smallest butterfly, the aptly named Small Blue (Cupido minimus) found in southern and central counties
In the garden
When introducing Kidney vetch from plugs or pots, ensure good drainage if needed, by adding sharp sand to the soil in the planting hole and around the area of the base of the plant.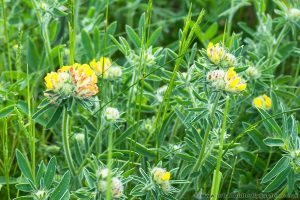 Plant Information
Name: Kidney Vetch (Anthyllis vulneraria)
Group: Fabaceae (pea family)
Type: Perennial
Similar appearance to:
Flowering: May to September
Position: Sun, calcareous grassland,
Height: around 30-40cm
Larval food plant: Small Blue (Cupido minimus)
Nectar plant: Common Blue,Bees
Photograph: 26th May 2015
Location: Growing in my Garden
© Urban Butterfly Garden 2010-2022